*Disclaimer: I am NOT a doctor or nutritionist. I am a personal trainer and Brazlian Jiu-Jitsu competitor. This article is for entertainment purposes only and it's just to show what I've been doing lately.
What's up guys and girls!
I just finished a yummy plate of you guessed it! Steak and eggs.
I am not very experienced with cooking lots of different meals. But I know how to make eggs and how to cook beef.
It's super fast and easy. It turns out that the steak and eggs diet is very popular and healthy for you.
I got the idea from this article by Victor Pride at BoldandDetermined.com.
Every 2 days I've been going to the grocery store and buying: steak, eggs, rice, and a vegetable.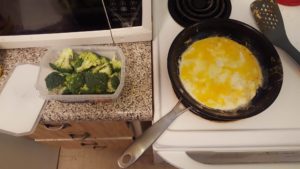 I come home and I cook a bunch of steak and pack it. Put it in the fridge. Fry up 8-12 eggs and put them in a container and put them in the fridge.
This means I can always have a great meal of steak and eggs whenever I want.
I eat steak and eggs for breakfast and lunch.
For dinner I may eat a burrito or some sort of wrap with chicken. Or I can eat steak and eggs all day.
I have even stopped eating rice and just sticking to the eggs and steak. I do eat vegetables like once per day.
What I've Felt
I've been eating mostly steak and eggs for the last 2 weeks and I feel amazing. No other diet has made me feel this good.
When I eat a ton of steak and eggs I feel like I recover well from my workouts and have energy to take on the day.
I also notice my body fat going down since I stopped eating rice.
In conclusion:
If you haven't tried eating steak and eggs for most of your meals throughout the day, I highly encourage you to give it a shot. It's super easy to cook and you feel amazing!